Let's Have a Look Back...
A Systematic Review of the Tour
The tour I wote about, turned out to be a journey of great scenic views through a beautiful country side. It splits up into three equally amazing parts:
The cycle tour Guillestre - Col d'Izoard - Pré de Madame Carle (including hill climbing to the Refuge C.A.F. les Écrins) - Guillestre.
The cycle tour Guillestre - Col du Grand Parpaillon - Col de Larche - Valle Varaita - Col Agnel - Guillestre.
The trip to Castellane (by car) and the way all round the Grand Canyon du Verdon.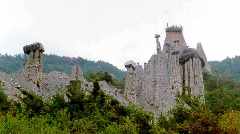 Let us terminate the narration with some interesting pictures:
The needles Demoiselles Coiffées, which literally translates to «hairdressed ladies», on the banks of the Lac de Serre-Ponçon were formed by erosion. The hats are made of harder stones, sheltering the softer soil underneath from the rain.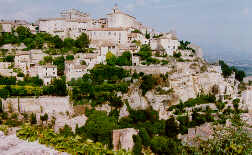 *
To the right:
Impressions from our way back through the Lubéron, a mountain range up to 4000 feet high. However, the villages around this area became more famous, e.g. Apt,
Gordes
or Rousillon.
*
This time I do not write as many remarks to my diary as I used to. Statistical details step back against adventurous cycle trips and nights spent talking, drinking, smoking. Anyhow, there is one last line to be cited from my private photo album: «For several weeks I feel like being on an orbit through space and time. And I know, when the braking parachutes will open I shall never land where I started from.»
And so it was ...