From Glen Coe to Loch Ossian
To be or not to be in the grip of the bog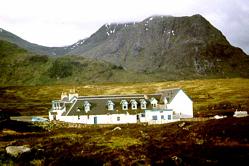 Glencoe is not only a place of historical magic but also the only connection between the north and the south in the west of Scotland. The mountains form narrow dales though not a pass like
Drumochter
or
Devil's Elbow
in the east. And the gorges cannot be compared to those in
Franceš
, where the rocks stand up vertically for several hundred meters.
Down in the glen two clans fought one another and killed whole families, women and children. Who wants to know more about this topic is free to visit the local information center or (on the net) additional
scripts
.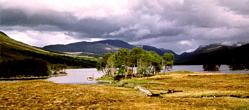 *
The most dangerous part of my journey is still ahead. It is the way from Glencoe to
Loch Ossian youth hostel
. And like the victims in early crime stories were driven into the bog to sink wretchedely and be gone forever, I nearly suffer a tragedy like that, feeling the moor clinging to my walking boots.
On the bank of the
Blackwater Reservoir
, that I pass by in the east, one of my feet suddenly sinks into the boggy sands. All around me there is nothing really strong enough to offer a saving grip. And the shoe is sinking deeper and deeper.
While trying to pull out my shoe, fighting desperately with the muddy grounds, it strikes me that the victims of those crimes might as well have suffered something like that, deciding afterwards to use this very effective theme to cover the truth - that they for real vanished to foreign shores with their beautiful lovers. And while thinking about that positive bending I get my shoe out of the bog...