Sundown on Top of Ben Nevis
Snow on the summit of Scotland's highest mountain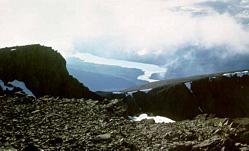 I canot tell the feeling on an evening like that. I can't say what it means to have best weather on top of a mountain after starting in fog and rain. You just have to do it. There are clouds to north-west and the best scenery to the south, towards Glasgow, Loch Lomond and all the other names so famous for rain. 13 years later I shall return to Fort William. And instead of climbing Ben Nevis again my wife and me are damned to wait two days in the worst possible weather, seeing at most the first two hundred meters of the mountain.
But today the walk is worth while. Seven days of walking through lovely glens and over boggy meadows, camping at lochs, accompanied only by the giantic scenery of the
Crampian Mountains
: This is Scotland at its best.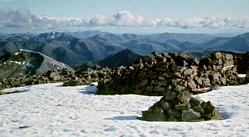 *
If I had broken a leg, I could as well have died. So keep someone company if you do a trail like that. However, as the trapper does not think of fear but of the next skin or fur to chase, I have made my way through all trouble: «All is well that ends well», is the last sentence of most of the fairy tales.
*
The next day the weather becomes that bad, that I decide not to walk further on towards
Loch Arkaig
and
Loch Duich.
Instead I do a little hitchhiking to
Cannich
, where I open one last page of this book.