Cycling the French Alps I
Trails of the Tour de France
If you don't fear steep hills and love to sit in the saddle for quite a while, you might as well fancy to spend your holidays in a very special region of continental Europe, in the French Alps.
If you prefer to cycle in an area that is famous for scenery there is hardly a more beautiful place than the mountain range between the Lac Leman and the coastline of the Mediterranean Sea. The French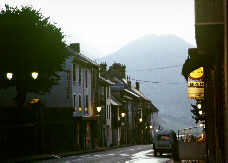 Alps provide the highest mountains, the steepest roads and tarmac passes up to 9193 feet above sea level. On top of that people do worship the cyclists here. This is the part of France where the heroes of the Tour de France are made on their way uphill.
An overview of this wonderful journey is given in the end. It begins on the 15th of September 1987 in Grenoble. We follow the minor road D 529 from there to la Mure, the place where we want to leave the car behind. Before you enter the village of la Mure you pass suburban quarters of dark and depressing miners' houses. We call a very old car our own and we do not mind to leave it somewhere at a curb. However, in the end we stay a night at the Hôtel des Alpes in la Mure where we can park the car for a minor fee in a barn. The owner of the hotel is very friendly and speaks several languages. We have dinner at the restaurant that night.