Blauherd and Sunnegga
Impressions at the end of the season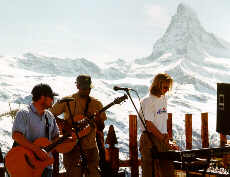 Blauherd
can be reached by underground to
Sunnegga
and a following cabin lift - or by a cabin lift from Gant. There some interesting slopes here, especially that one called
FIS National 1
, that provides some impressive parts, steep and fast. When all cable cars and lifts are closed because of wind and snow blocks the train to Gornergrat, the underground to Sunnegga offers you a last chance for skiing, what we actually did once.
*
Music once again: End of season at Blauherd. This year downhill Zermatt is not passable, so we have a last drink at the bar. Meanwhile the kids have their own entertainment, listening to the songs and building palm-trees from snow.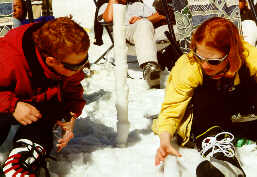 Last year the kids did enjoy the evenings when we went down to Zermatt through the woods, sitting for one last hour on the terrasse of the
Olympia Stübli
, listening to musicians or a one man band in the last charming rays of a setting sun...
Patrullarve
Patrullarve is a chair-lift station at an altitude of about 2000 m. This means more than 1000 m of skiing down from Rothorn - and 500 m from Blauherd, where the chair-lift ends. You are free to chose difficult slopes like the
FIS-National
or easy ones like
no. 2a
that passes by Sunnegga. At Patrullarve starts the slope that leads straight to Zermatt, however, there is one last chance to stop by for a beer or two at the
Olympia Stübli
. If this slope is icy it means death to the snowboarder. If it is soft and wavy it probably kills the skiers. What so ever, a beautiful scenery will accompany you on your way along the forest trail, old trees and steady rocks and the unique silhouette of the Matterhorn, that gave birth to this marvelous skiing area.