Zermatt
Winter Days and Springtime - Easter 2000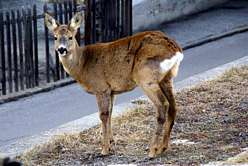 As concerns infrastructure,
Zermatt
is a great deal. From every day commodities to the most valuable swiss made watches you are offered anything money can buy.There were times when even the swiss tourists themselves complained about zermatt being an expensive and unfriendly village: «Sometimes we feel that they expect us to bring in the money and get off immediately.» But with an increasing number of concurrent skiing areas this attitude has changed very much recently. Seldom we have been welcomed more heartily to the ski-fields. There is music on the air when you lift uphill. And once I were personally accompanied by the local staff when I was the only guy that arrived at
Gant
in stormy weather - and all of the cable cars were taken to garage.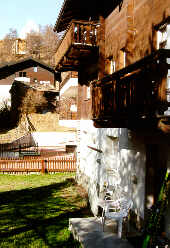 *
What you get in Zermatt is worth the money. There are some more considerations that are of great importance. One is a skiing area that is never crowded. As there are hardly any one-day-tourists (except those from the italian side), all the slopes and cable cars are moderately frequented. Another is a scenery unrivaled, an altitude that guarantees for good snow conditions and a village free from combustion engines. Thanks to very special electric motor cars and horse drawn vehicles there is quite a lot of traffic, though.
The price for one of those hand-made cars is pretty high, so life is very expensive here - not only for tourists.
*
Easter 2000:
  The pictures look like summer holidays. Every morning the scenery in front of our chalet, named
Alpengruss
, differs. From 5 inches of fresh snow to deep green grass after heavy rain, every morning is a new day.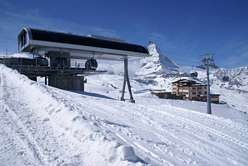 *
Easter 2007:
A new gondola with 8 confortable seats establishes the connection from
Furri
to
Riffelberg
and, therefore, for the first time the counter clockwise way through the skiing area. This means speed skiing at the Theodulgletscher in the morning and jumping on mogul slopes at Stockhorn about an hour later! There is no need any more for starting at Sunnegga to make a tour through the whole area. You can do it counterclockwise now.