Matterhorn/Theodul-Glacier
Beginner's slopes and scenic views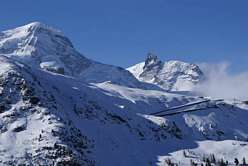 Klein Matterhorn
and Breithorn (4164 m). The Glacier area is a great place for beginners and is accepted that way. You can read it from the many faces running down the Matterhorn Express from Schwarzsee to Furri and further on to Zermatt in the late afternoon when I use to ride uphill in one of the last cable cars to descent on very special runs like
Tiefbach
,
Momatt
or standard slopes like
Furgg-Furri
.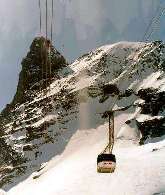 *
You get there from
Schwarzsee
.
Momatt
,
Tiefbach
and
lower
Aroleid
are most often closed because the amount of snow causes danger of avalange or does not allow any skiing at all. We regard them to be the most interesting and most demanding slopes among all, steep and narrow, although much shorter than the slopes around Stockhorn. Other pistes worth mentioning are the
Weiße Perle
and the black marked blue run along the
Hörnli
skilift.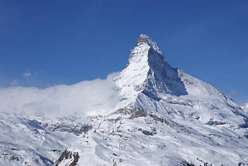 *
There is no doubt about it: You have to get on top of
Klein Matterhorn
when the weather is lovely. This journey is a must even though this part of the skiing area is more or less boaring! Riding the cable car to the tiny hole in the rock of Klein Matterhorn, however, is a great deal. To leave the station you have to pass through a tunnel which is about 200 m long. Inside you take a lift to the top (3885m). The panorama is great. However, if you have been to many different places you'll see that altitude does not outclass class: Although beeing not that high at all the scenery on top of Aiguille Rouge (Les Arcs) is far more impressive.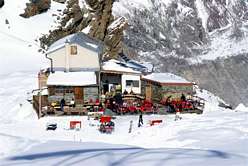 *
The Klein Matterhorn area is the realm of beginners. I did not like those very wide and flat slopes in former times as you were banned not to leave the area. Walking to the Gandegg hut is as well not my favourite though not bad a place to go. A fourtnight in Zermatt saw us once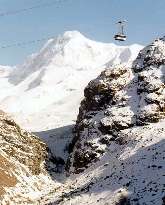 on the glacier. Today the
Riffelberg cable car
has changed my opinion: «The best thing about the glacier is - you can leave it any time now!».
*

Only the slope from
Furgg
to
Furi
offers some difficulties especially when the slope becomes very wet in the early afternoon or icy somewhat later. The great thing is that last part from
Furi
to
Winkelmatten
in «Sulzschnee», i.e. melting snow. On the way you will probably have a last beer at Furi or - if you miss this opportunity - at
Zum See
oder
Blatten.
There you get a guarantee for amusement as less skillful skiers often stumble across the material carelessly thrown apart or left behind by the guests of the restaurants.