Skiing at it's best - Stockhorn
The black pearls of Zermatt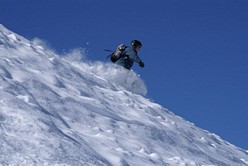 When I came to Zermatt first I had but four weeks of experience. My wife was full of respect as concerned the slopes at Stockhorn, well known to her by earlier travels. But from the moment I saw the slopes I fell in love with them. Today I do not hesitate any more to go there with my snowboard. Though bumps are not made for snowboards, I got used to them.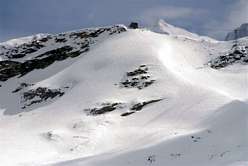 *
To your right:
Looking from
Blauherd
towards
Stockhorn
. Today, there is a large cable car that interconnects the Rothorn and Stockhorn areas. It offers room for 125 people. Even in high season it guarantees for hardly any queuing, taking you from Gant to Hohtälli within 8 minutes only. The first one of the combination of two old ski-lifts,
Gant-Platte
and
Triftji
, has been removed by now.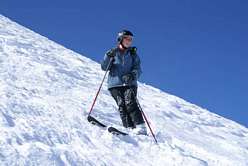 *
Now the time has come that I can't help saying that I am no longer a beginner. Usually I stop the board after 1000 m of vertical interval, going even faster then the average skiers if the terrain becomes bumpy or the snow soft and moist. To me, there are not many skiing areas that offer slopes of greater pleasure than those around Stockhorn. Nevertheless, it is upto you whether you chose the heavy ones or do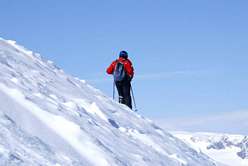 it the easy way. You are not forced to run down
Trifji
. But don't miss these slopes as they are the most interesting ones.
*
For the vindication of honour of the skiers I have to admit that slopes like Triftji may be very hard if the snow is deep to the hip. Moving on a snowboard is totally different from the movement on skis. So never mind if you are overtaken by a snowboarder on that run. It's his world.