The Skiing Area II
A Preview to What's to Come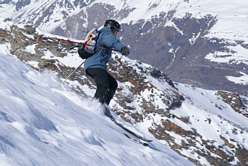 When you lean back and ask yourself whether it is reasonable to reduce the luggage to the minimum possible, park the car far off in an expensive garage and to pay a lot on rack railway transport and electric taxi cabs, you will end up with the question: «What can I expect from
Zermatt
?»
*

You read about Zermatt, about the Matterhorn and the Stockhorn area and you regard yourself being a pretty good skier. You can wait until the Stockhorn connection opens, which is a skilift now. However, all you mind is getting there to that beautiful spot that is so unique to the Zermatt area, 3400 meters high.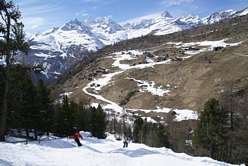 *
You look for decent challenge on difficult pistes or at the border or beyond on easy slopes. You love off-piste skiing and mogul slopes and you really love the panorama of impressive mountains, so many of them higher than 4000 meters. (You are on the continent there where they live and feel heights in meters.) You love slopes where the moguls try to immitate the scenery. Your annual holidays are only two weeks and you don't want to waste the time on third degree skiing areas.  As you long for powder snow late in the year. You love to start in the early morning and come back just in time to keep your wife from calling the mountain rescue guys. Later you will tell her that it was for the slowness of the gornergrat rack railway that took you so long to return home.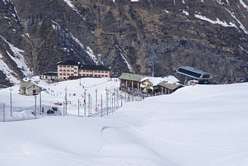 *
You have fallen in love with the extraordinary. You do not mind paying a good price for excellent service. Or scenery. Or slopes. You long to have breakfast on top of Trockener Steg or moon light candle dinner at Rothorn. You like your slopes lit by the setting moon or a torch light. And you love to chase the
carabineri
around in the Breuil-Cervina area, love to tease them by aiming at them with the top of the skis while your gps receiver loggs more than 100 km/h.
*

You want to go for 12000 meters in altitude within one day and without doing a single slope twice. And you hate long lifts and short pistes, so try
Hohtälli
once. The gondola from
Gant
takes you there within eight minutes and the shortest of the slopes, the
Mittelritz
mogul slope, is five kilometers long. There are other examples to be descovered. Or, you dislike skilifts. There is hardly any to be found except for those at Triftji and Stockhorn.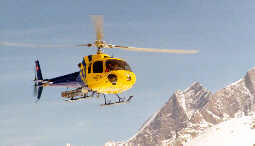 *
Maybe you have tons of money and do not worry to invest it in a helicopter flight to Monte Rosa. You are not snowborder and you do not mind to walk for a good deal in the end, so you might have no problems to find a mountain guide to take you on a ride to the very limits of the skiing area. There is no one among your family who goes for cross country skiing? Than you are in the right spot here! No doubt.